For this weeks photo I am being rather uncharacteristically serious. It is actually sometimes a matter of life and death.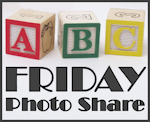 This week I am also combining the fun photo share with my Friday post. Thanks to
Mum vs the Boys Friday Photo Share and Maple Leaf Mommy
"E" is for Epipen
This pre filled syringe just needs the blue safety cap removed before it can be quickly used in case of an emergency.
Epinephrine is used with emergency medical treatment to treat allergic reactions to insect bites, food, latex, medications and other causes.Also known as
adrenalin
, this medication relaxes the muscles in the airway and tightens blood vessels.
This pre-filled syringe should be used as soon as you suspect that you are having a serious medical reaction. It can.... and should be used right through your clothes ( pants, jeans etc) and followed up
immediately
with emergency medical treatment.
If you have children with allergies.... or if you do... these delightful kids will
show YOU
how to use and epipen.
Some information obtained from:
Medline Plus
Further info can be obtained at-- http://www.nlm.nih.gov/medlineplus/druginfo/meds/a603002.html#brand-name-1
Disclaimer
The material provided on this site is designed for information and educational purposes only. The materials are not intended to be a self diagnostic and/or self treatment tool. I encourage you to use this information as a tool for discussing your condition with your health practitioner.