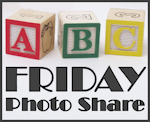 Thanks to Mom vs the Boys for the ABC Friday Photo Share.
This Friday I seemed to have misplaced my "thinking cap" or it has blown away in the unusually high winds of this week.
In any case I have completely forgotten it was even Friday, let alone what to put in this blog. With that in mind... hopefully your mind is more present than mine..... one of the first words we learn to associate with the letter "D" is dog. Since time is of the essence I took the low road, and went with the first word that came into my wind blown head.
What is interesting, though, is this particular picture. Our daughter and son-in-law have a beautiful golden retriever that has become very close to a toy we gave it for this past Christmas. It is a warm and fuzzy rabbit that when squeezed emits a sound like..... would you believe... a duck. Oh, look, it is a "D" word too! Lovely Shelby has been carrying this creature around with her for quite a while now and was captured on film by my daughter having a nap in the sunshine keeping her little charge close to her. It was definitely not set up. What can I say.... .. but then again I am the Nana and admit to prejudice.!!