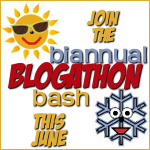 Hard to believe it is that time of year already. I remember signing up for this and thinking it was "months" away.
So for those of you who are not familiar with all the excitement let me explain.
Today is the start of the
Biannual Blogathon Bash
which lasts for 72 hours ( Friday @ 0800 to Monday @ 0800) During this time we, as bloggers, have fun, make a "to do" list, make new friends and re-establish friendships with those whom we have not connected with in a while.
You've heard the quotation from Robert Burns... "the best laid plans of mice and men"....etc,etc. Well, that pretty much describes the way my day has started. But, moving on with determination, I will outline my list of hopes and expectations for this blogathon.
~ Attempt to clean up my site. I need to put the various posts in their appropriate "pages". I also need to find out if I "delete" them once they have been copied to their new home. I would think the answer is "yes", but want to check before making a big mistake.
~What is SEO and do I need it? ( I know there are posts on this form the Blogathon site, but have not taken the time to really absorb it.... hence today!)
~How do I prevent "anonymous" replies on my site.
~ Keep plenty of water cooling in the fridge.
~ Obtain a prescription for my newly diagnosed SMAD ( Social Media Attention Deficit)
~ Last but definitely important.....have fun and learn something worthwhile about blogging!!
This is the third time I have taken part in this Blogathon and am really looking forward to visiting new and previously viewed sites. There are some really talented and energizing people involved with this so do yourself a favor and partake for as long as you are able. The total is 72 hours but am trying for at least 24 hours... maybe more.
Have fun and please drop by for a quick visit and share the happiness.