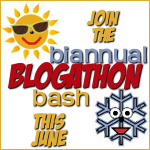 Here it is Day #2 of the Blogathon Bash!!!
I have to thank
Callista's Ramblings
for the expertise she showed for my mini challenge on" How to write a better tweet on Twitter".
Also to
Geek with Style
for the Challenge "HTML-the Basics"
I gave them both a try and have learned something, and that, at least for me is what it is about!
Now on the more mini challenges and hopefully to cross a few more items off my list.
I have been trying to "meet" followers but have encountered a bit of trouble. Many of you are so advanced and have so many "gadgets", to click I am not sure which one to "follow". Any ideas to help?
Here's how my list is progressing:
My Goals for this Blogathon are - ( list subject to change as much as I change my mind!!!)
Learn more about the basics of blogging
Learn more about how to successfully use the HTML thingy!!- I see there is a mini challenge for this
Interact with more bloggers and hopefully have them reply in kind!
See how to change my home page to something more "catchy"
Become acquainted with product review aspect of blogging.
Have fun!(continues)
Clean up my home page and rewrite my "about me" section.
I am now off and running in the rain here in our city. Hope you have a great morning.